Besides having a wide clean sandy beach,
here are a few other favorites places of ours for adventure!
All distances are estimated!
Kure Beach Fishing Pier (3 blocks south) "Man you should of been here last week!!" Is the motto of the Oldest Fishing Pier on the East coast. Fishing pier, not ship pier, 1923. Fishing is above average. Spots, one Trout, several Flounders, Bluefishes, King Mackerels, few Spanish Mackerels and one Tarpon were all caught "LAST WEEK"! No joking! Gilbert Alphin June 27, 2001
Click on picture for more historic information.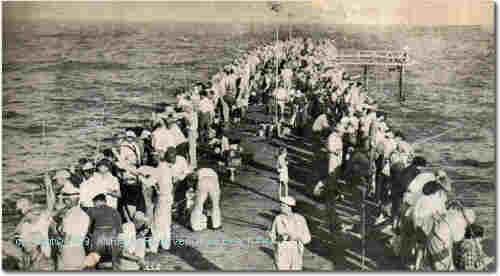 Historic Fort Fisher (2 miles south) Largest Naval/Sea and Land Battle to that time. 10,000 sailors and Marines and 57 ironclad warships were ordered by President Abraham Lincoln to storm the beach here and take Fort Fisher.
Aquarium at Fort Fisher NC (2 miles south) 44 million dollar rebuilding project is now open. Spring 2002.
North Carolina Department of Transportation Fort Fisher / Southport Ferry (3 miles south) This is a wonderful ride to Southport and vice-versa. Along with dozens of bird species, one can see "The Rock Wall". Built in the early 1880's, this structure keeps New Inlet from washing into the Cape Fear river. "New Inlet", was opened before the wall. This is where Confederate and its allied ships passed through as union ships fought hard to keep this strategic waterway closed. The "Confederate State Ship" Raleigh lies just a few hundred feet to the east of the Ferry's route under 30 feet of water. The ships that ran New Inlet while being targeted and fired upon by union ships where were know as "Blockade Runners"
(7 miles north and 3 miles south) Miles of sandy beaches for 4 wheel drive access activity. No camels "oops", camera pictures or links at this time.
Near by golf courses. (6, 8 and 15 miles north) Many of our local resident and past guest enjoy the golf courses in our area. Even the pro's stop in.
Wilmington's Historic Cotton Exchange (17 miles northwest) Heritage the genre here. Take a step back in time in a clean, up to code environment. Dine in red brick walled buildings built in the early 1800's. Do your gift shopping year round. The charming Cape Fear River water front host collector's art gallery, book shops, other nautical stores.
Jungle Rapids and Family Fun Park (15 miles northeast) Spend a day floating on New Hanover Counties' coolest and laziest river. This river (circle pool) covers approximately 4 acres and is powered by jet pumps to recreate an endless gentle moving water current. This family fun park is well maintained and packed with lots of exciting Arcades, an Indoor Rock Climbing Cliff, Jungle Golf Course, Grand Prix Go-Karts, Quick Food Shop and lots of other goodies.
Cruises on a Riverboat (17 miles northwest) Mark Twain fans. HENRIETTA III Cruises depart from the foot of Dock Street at South Water Street in historic downtown Wilmington.
Horse Drawn Tours (17 miles northwest) Your costumed driver will narrate your journey as you explore the past and present of old Wilmington
North Carolina Battleship Memorial (20 miles north west of here). She very special to us. Open year round. With the exception of the surprise Japanese attack on Pearl Harbor, this battle "wagon", saw ALL major naval action in the Pacific theater of World War II. Between Memorial Day and Labor Day, Sounds and Sites shown nightly. Machine gun fire, aerial Japanese airplane attack sounds, 16" gun fire, captain and sailor stories, submarine attack, a presidential speech by F.D.R. plus more naval stories of this "ghost ship". Take the opportunity to board and walk her decks.
NE Cape Fear Exploration (10 miles northwest) A leisurely excursion on the historic and beautiful Northeast Cape Fear River is the ideal way to enjoy an afternoon of natural beauty and fascinating local history, or to celebrate a special occasion with friends and family.
800-458-5752 7:30 am- 10:30 pm
Blue Marlin Apartments
PO Box 101
Kure Beach, NC 28449