Wireless Internet Pricing Guidelines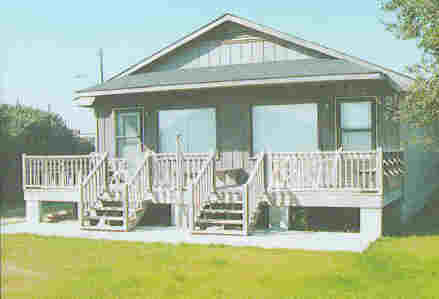 Ocean view with a short 3 minute walk around the block to beach. Two blocks north of Kure Pier, this unit is fenced in and mostly surrounded by large yaupon shrubs in the nice historic residential area of Kure Beach. Each apartment Accommodate a maximum of 4 person .**. These two maybe combined to form one Beach House, accommodating a total of 8 persons.* Linens furnished.

Kitchen with oven, 14 cubic foot refrigerator, microwave oven, coffee maker (coffee not included), can opener, basic utensils, cabinets and double sink.
Central heat and air condition per unit. Solid double locking doors in kitchen area may be unlocked for entire house usage without having to walk outside.
One full bathroom per unit. Two full bathrooms for the entire house. Individual hot water heaters per unit.
Two private bedrooms per unit. Four private bedroom in the entire house.
No pets or long time, non-registered guest visit.

Each living room area has a sofa, loveseat and chair. Wi-Fi plus "Charter Cable" TV with more than 45 channels.
** In an effort to provide you safe comfort and show consideration for other lodging guest, this duplex accommodates 4 persons maximum per unit and 8 maximum for entire house. Non-walking infants do not fall into the occupancy's count. Unfortunately, we cannot provide safe cribs and blankets for infants, but you are welcome to bring your own items.
800-458-5752 7:30 am- 10:30 pm
Blue Marlin Apartments
PO Box 101
Kure Beach, NC 28449

Effective May 2003. We require a valid state Identification from the primary renter.