FROM: >> http://www.starnewsonline.com/apps/pbcs.dll/article?AID=/20070329/NEWS/703290400
Si Cantwell: 343-2364
si.cantwell@starnewsonline.com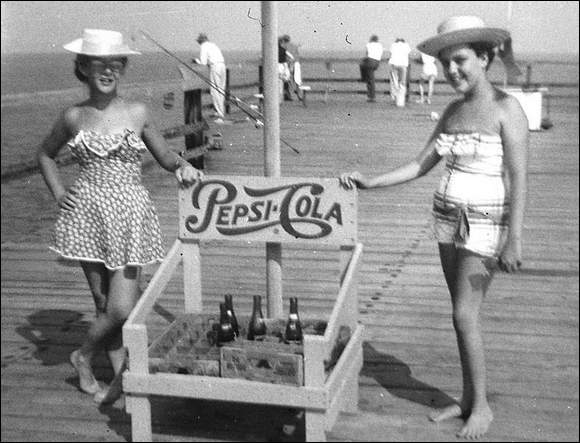 Enjoying a day on Kure Beach Pier in 1956. At top, a beach bungalow, date unknown.
Courtesy | Brenda Coffey and A.E.Punky Kure/ starnewsonline.com top of page. GA


Kure at 60
Article published Mar 29, 2007

KURE BEACH | On April 5, 1947, the area once known as Kure's beach became an incorporated town. Town leaders had been planning the step for years. An article in the June 5, 1938, Morning Star headlined "Kure Beach aims to become town" described growing pains the area had experienced since the early 1930s, when a plant was built to extract bromine from the ocean for a gasoline additive called ethyl. But the town's history started long before incorporation or when the Ethyl-Dow plant was built. It actually stretches back to the start of the 20th century, when Hans Kure, a retired Danish sea captain, began buying land two miles south of Carolina Beach.
Kure came to Wilmington in the 1880s and started a ship chandler's business. He bought land in Carolina Beach, according to the written memories of his granddaughter, Jennie Kure Robertson Bagley. A few years later, he sold some of those holdings and bought land from Hanby Beach to the gates of Fort Fisher, from the ocean to the river. Lewis Philip Hall described the area in his book, Land of the Golden River: "The peninsula was a wild waste of sand, beach grass, scrub oak and towering sand dunes." Soon Kure and his sons organized steamship trips to and from Wilmington and built a small railroad to carry visitors from the river landing to the oceanfront.
By 1915, they'd built a two-story bathhouse, a water tank and waterworks, Hall wrote. A second boat started bringing building materials as Kure's sons began selling tracts and building houses. The Kures partially financed a road built to Carolina Beach in 1916 and then to Kure's Beach, Bagley wrote. In 1923, Lawrence Kure built the pier. It lasted a year before wood-boring worms destroyed it, necessitating the first of a seemingly endless series of pier rebuilding projects. Bagley, born in 1917, spent summers at Kure Beach when she was young. "We were in that ocean all day long," she recalled. After a morning on the beach, they'd come in for lunch and rest until 2 p.m. "Then we'd spend the afternoons in the ocean again." Electricity came from a gas generator that ran until 10 p.m., she said. After that, you needed a kerosene lantern if you didn't want to stay in the dark. In 1924, dances began to be held at Kure's Beach Pavilion three nights a week.
The Ethyl-Dow plant opened in the early 1930s, causing the population to rise from 175 people to 525 by November 1933, according to a newspaper article. The present population is 1,964. There is a report that a German submarine fired on the Ethyl-Dow plant in 1943. The plant closed in 1946. In 1935, an International Nickel executive named Francis LaQue started testing materials to see how they stood up to the salty air of the plant site. Eventually, the LaQue Center for Corrosion Technology grew into a research facility that immersed various substances in seawater and exposed them to salt air for decades at Kure Beach and Wrightsville Beach, measuring their ability to endure. All that remains today of the LaQue Center is a small oceanfront testing lot at Kure Beach.
In 1935, a daily ticket at Kure's Fishing Pier cost 35 cents. In 1944, a five-room house at Dow Road and Fourth Avenue cost $1,500. It had asbestos siding, an ad boasted. After the town was incorporated 60 years ago, Lawrence Kure turned over his waterworks to the town and became its first mayor, Town Attorney A.A. Canoutas said. Canoutas' parents rented out rooms upstairs from their restaurant, and there were a few other rooms for rent in town, as well as cottages and tourist cabins. But he said the motels didn't really come until the 1950s. Jennie Kure married Bill Robertson, of Davie County, according to their son, Mike. But Jennie's family wanted her back at the beach, so in 1952 Robertson bought the pier that his son now owns. After World War II, people drove jeeps everywhere in Kure Beach. It was a thrifty town, even when it came to buildings.
Mike, Hans Kure's great-grandson, said the buildings now housing Bud & Joe's Tavern and Bowman Realty were former Fort Fisher barracks. The Old Pier House Restaurant at the foot of K Avenue has an accurate name: Its front dining room was the pier house before 1954's Hurricane Hazel destroyed the pier and an earlier restaurant. The pier house was moved to replace the eatery's dining room. In the 1940s and '50s, Brenda Coffey's grandparents and parents ran Fundy's Cafe, near the present location of Jack Mackerel's Island Grill. Canoutas' father, George, ran the nearby Plaza Grill. "It was really a small fishing village. There weren't very many people there," Canoutas recalls of that era in Kure Beach. "In the wintertime, it was kind of desolate." He worked summers as a lifeguard. It paid only $35 a week, he said, but he enjoyed the "fringe benefits" of working in a beach town. A beachfront dance floor with a juke box offered teenagers a place to hang out and flirt, Coffey said.
In 1965, the U.S. government paid Kure Beach $100,000 for land to create the buffer zone across the river from Sunny Point Military Ocean Terminal, a key ammunition shipping point for the Department of Defense. Canoutas and Robertson both recalled hunting in those riverside woods, in what Robertson called the "pre-9/11 days" when officials were more lax about patrolling the area. As the years passed, the land that held the Ethyl-Dow plant's holding ponds and most of LaQue's operations gave way to large, new houses. The town's residential growth picked up in the 1980s and '90s. Kure Beach has always been known as a family beach, and present leaders hope to preserve that atmosphere.
Last year, the state General Assembly approved a law imposing a 35-foot height limit on Kure Beach buildings. The law was sought by Mayor Tim Fuller and some town commissioners, who worried that the local ordinance could be overridden by a three-vote majority on a future town council. Today, Fuller is optimistic. "I think the future of Kure Beach is very bright," he said. "For one thing, we've got a wonderful population, with a lot of people who care very deeply about their town," he said, noting that more than 150 people volunteer on the fire department and various committees. "We've got a unique location, and it's just a beautiful place," he concluded.
Si Cantwell: 343-2364 si.cantwell@starnewsonline.com